Email offers low-cost, high-speed, instant delivery combined with detailed tracking and reporting capabilities. It's obvious why successful companies worldwide choose email as a preferred marketing method. Especially when you match the benefits with the Direct Marketing Association's estimate that the average ROI on email marketing services is an incredible $28 for every dollar spent (Source: DMA, 2012).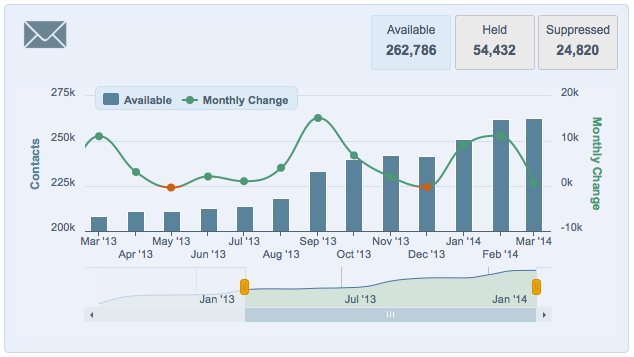 Grow Your Email Audience
Healthy list growth is key to maximizing your ROI. From the minute you log in to the emfluence Marketing Platform, you'll have all the info you need to understand if your list is healthy.
The dashboard graph for email audience size shows you your month-over-month growth and the change in growth rate — information you can immediately use to determine if your list growth tactics are as effective as your want them to be. You'll also quickly see the number of suppressed subscribers (the one's who have asked to be removed from your list) and held subscribers (the one's who have hard bounced or met a soft bounce threshold).
Create, Deploy and Track Email Marketing Campaigns
The emfluence Marketing Platform is designed with Marketers in mind. The intuitive interface greatly simplifies the process of creating, deploying and tracking email campaigns. But simple doesn't mean unsophisticated. In fact, the emfluence Marketing Platform hosts some of the most advanced capabilities on the market. From comprehensive "pre-flight" and testing tools to our exclusive Smart Template Technology(TM), you'll find incredible features that make you more effective at your job.