The data proves it. Online marketing campaigns perform better when landing pages reinforce the initial message — sometimes increasing conversions by triple digit percentages.
Sounds really good unless you don't have the means to quickly create, deploy and track dynamic landing pages. Think about what it takes to create effective landing pages: Concept meetings, gather up the creative, coordinate with developers… and where will you host it? Then more development. And something about a launch date, working beyond overtime, and a lost weekend or two. All so you could launch a landing page…? Really? Not anymore.
The emfluence Landing Page Generator gives you and your team a powerful system that shaves days or weeks from your launch schedule, and looks really good on your bottom line. Built into the emfluence Marketing Platform is a tool powerful enough to answer the question: They clicked it, now where did they go? The answer is: they go to your branded, hosted, feature-rich lead-capture or conversion portal that you created using the emfluence Landing Page Generator – a landing page created by you in minutes. Not in days or weeks. Minutes. Eliminate development cycles, installation, server selection and maintenance with our point, click, and publish system for conversions. Plus, sophisticated reporting lets you segment, qualify, and convert traffic generated from your ad or email campaigns.
Customize your content
Create template-based brand standards
Manage your campaigns
Create, test, analyze and improve every initiative
More great news. When it comes to hosting your landing pages, we've got lots of options. You can post your page to one of our hostedlandingpage(s) domains, add your sub-domain to one of our hostedlandingpage(s) domains, point your own sub-domain to our server, or, paste the embed code on a page on your own site or any other site.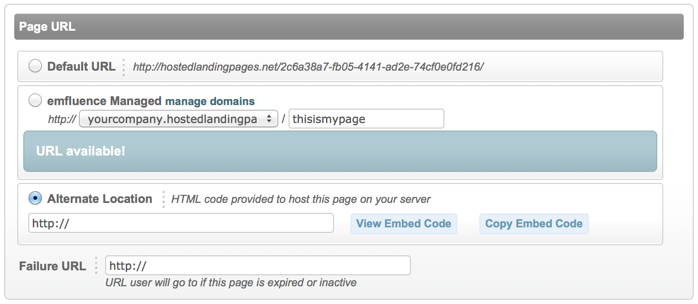 And how do you get all this? The Landing Page Generator is included in your emfluence Marketing Platform plan. Start exploring the possibilities. Call us today for an online demonstration for you and your team. Go ahead and reallocate that budget to something else. Save your company some money and yourself some time. Then sit back and reap the rewards.